Exclusive offer! Get the Fat burning manual for FREE-Just pay the shipping and handling
INSIDE THIS FREE BOOK YOU'LL DISCOVER THE SHOCKING SECRETS OF HOW YOU CAN LOSE WEIGHT AND BUILD MUSCLE AT HOME WITHOUT USING ANY EXPENSIVE GYM EQUIPMENT
Learn how to use your body's own built in Fat Furnace
The Secrets of interval training and it can help you burn body fat and build muscle
No Equipment is necessary
Exercises that can be easily done in your living room to burn fat
Beginner, Intermediate and Advanced workouts all geared at burning fat and building muscle
Beautiful photos and easy to follow instruction
Programs that help shed body fat, increase flexibility and strengthen your body
  Due to the huge demand (and the fact that I stupidly only ordered 100 books) we are almost sold out.  Next shipment is still 4 weeks out but as of right now I still have some in stock and they are ready to ship in the next 24 hours
Workout's that can be done from the comfort of your living room..all you need is yoga mat or an area rug
YES! I want the FREE In Home Trainer's Fat Burning Manual
"I always found excuses of why I couldn't make it to the gym regularly and realized that with my busy lifestyle rushing to the gym and cramming workout in was not for me.  Thankfully I learned how to exercise effectively from my home by utilizing my own fat burning machine " the body".  It has been the best decision of my life. I highly recommend any program that inhometrainer has to offer".
You can become lean and fit by following the In Home Fat burning exercise manual. Never feel embarrassed again of not knowing what to do! Learn how to train your body and utilize the power of your own built in fat furnace.
Created by master personal trainer and President of Canada's largest in home training company Mike Tangreda
See why thousands of have learned how to harness the power of using their "body as the machine"
Develop goals and a razor sharp mindset to help you achieve ever lasting health
No equipment necessary for the in home training program
Learn how to deal with injuries and avoid them all together
Learn how HIIT Training can be done anywhere in your home, to burn body fat and build muscle
Easy to follow programs with colourful photos!
      Ship My FREE Copy Of The Fat Burning Manual Now
"The inhometrainer program saved my life"!
Here's What To Do Next
Like I mentioned before, this book is free.
All I ask is that you help me cover the printing and shipping costs of $9.95. Your book will be shipped the same business day. As soon as we receive your request it, we ship it to you – so you can expect to get it in about 7-10 days.
Oh, and just in case you're wondering… There Is No Catch! I know there are some companies out there, that will offer you something cool for free, but then try to get you into some program that charges your card card month after month. I promise you this isn't one of them. There's NO hidden Fees" – and in case you're wondering why I'm doing this…
Well, there are actually a few reasons… 1.It's my way of saying thank you for visiting our site 2.Because (unlike other  fitness "guru's") I don't make all of my money selling 5 minute workout programs, supplements and products that are here today and gone tomorrow (I actually run a real in home fitness business with one goal in mind..To Educate People how to become physically fit from home)…so because of that, it doesn't hurt me to share with you my best stuff. 3.Like most of us, I wasn't blessed with a genetically gifted body.  I had to work hard for it and it fuelled my passion for helping others do the same.
As an active in home personal trainer for 17 years, I am sharing my best workout advice for FREE in the hopes that you will realize how awesome my book is and hopefully you will buy more products from me in the future.
Ship My FREE Copy Of The In Home Trainer's Fat Burning Manual
Time Is Of The Essence!
Here's why. I only ordered 100 copies of this book as a test. This first batch sold out in less than 72 hours, and I had to pull this page down. I ordered 300 more copies, and 3 weeks later they showed up, and most of them have been ordered already If this page is still up, then we still have some books left. However it's a matter of supply and demand… and they are going really fast.
Here Is My "You Gotta Be Crazy" Guarantee
I 100% guarantee that you'll love this book, or I'll return your $9.95 shipping and let you keep the book anyway. That's right. You don't even have to send anything back. Just email me or call the number on your receipt within 30days and I'll give you your money back with no questions asked. Sound fair?   This Is Truly A Limited Time Offer So Claim Your FREE Copy Now Before They're All Gone…
Ship My FREE Copy Of The In Home Trainer's Fat Burning Manual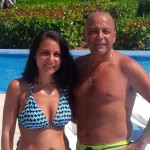 Dear inhometrainer,
My husband and I cannot say enough about the program!
The hardest part was getting started. Once we made the decision to get back into shape, inhometrainer helped us achieve our goal weight. We could not have done it alone, and going to a gym was inconvenient and intimidating.
Without the help of our amazing trainers, we could not have achieved our goals. My husband lost 30 pounds, and I've lost 14 pounds. We feel so good and we have continued the program on our own because we know what to do.  
inhometrainer showed us how to lose weight and keep it off. No gimmicks, no pills, no equipment! Just proper circuits, exercise, and good nutrition tips.
I have recommended inhometrainer to all of our family and friends who have commented on our weight loss.
Thanks again inhometrainer you transformed our lives!
*Please note results may vary.
Two years ago, I was feeling lethargic, was not sleeping well, and had no energy. I was 205 pounds, size 38 waste and 44 jacket. I felt "bloated" and missed meals all day, and gorged at night. I spent far too much time in front of the computer! I felt compelled to doing a workout and usually did some cardio and weights but was getting no results. In fact, I was gaining fat! Then when I realized my blood pressure was starting to creep up, I knew it was time to get my life into check.My trainer counselled me on nutrition and gave me one heck of a work out program, that was changed frequently to "shock" my system.
Well, the pictures tell a thousand words! I am now down to approximately 12% body fat, lost 55 pounds and am now at my ideal weight of 150 pounds, and I am more carved than ever in my entire life.
I think better! I feel more energized too! I am now skiing, snowshoeing, and cycling…and having a riot doing it! I have a more positive attitude on life! I also feel and my friends tell me I look 20 years younger! It's amazing what my personal trainer has done for me! Without the help, guidance and motivation of my personal trainer, I would not be where I am today! Thanks inhometrainer! You saved my life!
*Please note results may vary.
Over the course of 3 months Karen lost 15 Lbs and shed 5% body fat. Impressive stats, for one of our hardest working clients.
Get Motivated with inhometrainer!
*Please note results may vary.
During my time with a inhometrainer, I've noticed amazing results, not only physical, but I've also developed a new outlook on life. My trainer has helped me understand that through hard work, and perseverance anything is possible.
Working with a personal trainer has changed my life; I have more energy, and most of all I've become happier and even in stressful situations, I can handle stress better.
inhometrainer, not only focused on physical trainning, but guided and advised me regarding proper nutrition and healthy eating.
I noticed that my whole family has benefitted from the simple minor changes I have made to our selection of foods.I thank inhometrainer for bringing this positive change in my life. I wish them good luck and hope more and more people give them a try and see the difference for themselves.
*Please note results may vary.
My name is Dr. Neil K and I am an emergency physician working in one of Canada's busiest emergency departments.  Over the past decade, the stress of the job combined with the rigours of shift work and poor eating habits have led to a steady unwanted weight gain.  It is well documented in that shift workers and those who don't take care of themselves are at a higher risk for numerous serious health conditions like cardiovascular disease, diabetes and obesity.  Despite the knowledge, and witnessing countless heart attacks and strokes, it has been hard to break years of bad habits.  Past attempts at diets and workout programs have always failed to keep off the weight.
Fortunately I have now been under the expert guidance of the inhometrainer. As a result, I am in the best shape of my life.
More importantly I have kept the weight off and I feel stronger than ever!!!  I highly recommend inhometrainer!
*Please note results may vary.
Previous
Next