Why you should get your ball today:
Easier on joints especially the knees
Burn more calories when performing ball exercises vs without
Rehab knee pain and improve leg strength
Great for toning muscles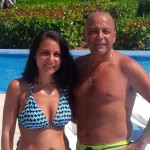 Dear inhometrainer,
My husband and I cannot say enough about the program!
The hardest part was getting started. Once we made the decision to get back into shape, inhometrainer helped us achieve our goal weight. We could not have done it alone, and going to a gym was inconvenient and intimidating.
Without the help of our amazing trainers, we could not have achieved our goals. My husband lost 30 pounds, and I've lost 14 pounds. We feel so good and we have continued the program on our own because we know what to do.  
inhometrainer showed us how to lose weight and keep it off. No gimmicks, no pills, no equipment! Just proper circuits, exercise, and good nutrition tips.
I have recommended inhometrainer to all of our family and friends who have commented on our weight loss.
Thanks again inhometrainer you transformed our lives!
*Please note results may vary.
Over the course of 3 months Karen lost 15 Lbs and shed 5% body fat. Impressive stats, for one of our hardest working clients.
Get Motivated with inhometrainer!
*Please note results may vary.
As my personal trainer, I feel that Manuela has not just transformed my body, but also transformed how I feel about my body.  She clearly knows the technical aspects of her field such as specific exercises for which muscles, nutrition, stretching, core strength, balance, flexibility, repetition, toning, bulking, etc.  What clearly sets her apart from other personal trainers for me is that she is also excellent at managing my emotions about health and exercise.
For the first time in my life, I actually enjoy exercise and I look forward to seeing the results.
I look forward to my sessions with inhometrainer because she is a warm, funny, and kind person who pushes me very hard while somehow convincing me that I'm having a great time!  I have increased my fitness, stamina, and balance while losing several inches around my hips & while gaining muscles. I'm excited to see how my body and my mental approach continue to evolve.
Thank you inhometrainer!
Previous
Next
Easy On Joints/Shed Body Fat
Use the ball to improve core stability, strengthen your legs, improve balance and tighten your body.
The ball is perfect for any fitness level and works perfectly for in home workouts!
Frequently Asked Questions:
1- Is this really Free? 
Yes this product is free.  We have covered the cost of the ball and all we ask is that you cover the cost of the shipping and handling.
2.Why should I buy the ball from inhometrainer? 
We understand in home personal training and have been putting together programs with an exercise ball for more than 15 years.  As trainers we understand how to get our clients to engage core muscles effectively and ease their joint pain.  When you order the ball you will also receive a complimentary in home exercise program.
3.What size is the exercise ball? 
The ball is 24 inches in diameter and is the size our in home personal trainers recommend.
#1 Piece of Equipment used by our personal trainers

Amazing Full Body Workouts With Just 1 Ball:
Learn to exercise safely from the comfort of your home

Strengthen your knees and lower body

Great for glutes, inner and outer thighs

Awesome for upper body and arm definition

Improve your balance and core
Improve Mobility And Shed Body Fat
Includes An In Home Workout Program
This is the # 1 ball used by our clients and personal trainers.  Don't delay and get one before it's too late.
We only have a limited number of balls available and once they are gone, they will not be re-stocked!